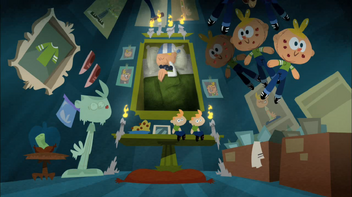 Heloise's shrine that is dedicated to her love for Jimmy.
It was hidden behind Heloise's skull bookcase and fireplace (Fused Together, Pet Rocky, Best Bud Battle).
Heloise has a seperate room that also contained Jimmy items (Jimmy in the Big House).
The Jimmy Statue was made of wax.
The Jimmy Shrine was almost seen by Jimmy twice.
Dorkus discovered it but his mind was wiped.
Has made only one appearence so far.
Heloise destroyed the shrine and it has yet to be seen rebuilt (Heloise Schmeloise).
Wax Statue of Jimmy is now made of gold.
Community content is available under
CC-BY-SA
unless otherwise noted.