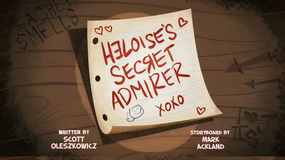 When Heloise receives a gift and a letter from J2S, she believes that it's from Jimmy but turns out it's from Peep, she then goes on a date with him when she finds out Jimmy's jealous.
Edit
Heloise receive a gift delivered by Beezy from the anonymous J2S, she assumes it's from Jimmy. Jimmy has no idea who sent thet but he's worried because Heloise thinks it was him. Beezy shows up and delivers another message from J2S telling her to meet him at the park at noon. At the same time Jimmy runs off and tries to find Heloise's secret admirer but then out of nowhere Peep rolls in revealing that he's J2S. Beezy tells her that Jimmy is getting pretty jealous Heloise creates a plan to use Jimmy's jealousy to her advantage. Playing along with Peep's affections she lets Jimmy get more and more jealous until he came to her to try and get her attention, she then invited him lava sailing with her and Peep. On the cruise Jimmy and Peep got into an argument for Heloise's attention but somehow it got into a friendly conversation. Heloise breaks the two up and tardily says that she can only choose one. She chooses Jimmy and launches Peep of into the sunset with the boat motor. The boats takes them to the tunnel of sludge and Heloise ask Jimmy if there is something he wants to do now that they are alone. Jimmy says there is and then they almost kiss. Later Heloise is piloting the Jimmy mobile and then they crash into Heloise's brick wall.
Community content is available under
CC-BY-SA
unless otherwise noted.